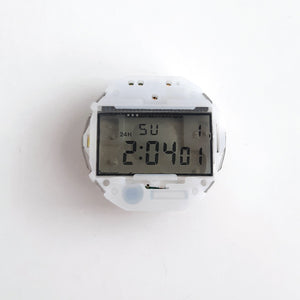 Pre-Modded F-91W Insides (Transparent)
Mod your own watch with these pre-modded F-91W digital mechanisms. Just swap the existing insides of your current F-91W variant watch with this.
Modifications include:
Transparent LCD + White Painted Insides
New bright white LED
How to install:
Unscrew the 4 screws on the back of the watch (requires a small cross-head screwdriver)

Remove the rubber seal
Remove the existing F-91W insides
Add in the new insides (make sure it's placed the correct way up)
Re-add the rubber seal
Screw the back on
Complete
NOTE: Requires a small cross-head screwdriver to install (which is not included). Be gentle with the LCD side too. It is made of thin glass, and the polarizing film does scratch if you're too heavy handed.